Tuesday, March 26, 2013
Penelope Black Diamond's Basketball Sized Breast Implants
Completely ignoring her giant breasts for a moment, Penelope Black Diamond is some kind of freak of nature in that she never seems to age. I'm convinced she is stuck in time at 18 years old, even though she must be approaching 30 now. Her skin is flawless and her cuteness is timeless.
But now to the elephant in the room. Those absolutely massive, gigantic, huge tits! There's something tantalizing to me when a woman's big boobs move under a shirt. I think it must make not just their size, but their weight seem very apparent. You might not notice but she's wearing a KISS t-shirt, and stretching the shit out of it.
I have no prejudice when it comes to big boobs, so long as they look good to ME. I love the all-natural massive funbags of Maserati, the never-know-they-were-implants of Eva Notty, and the super round, they're-fake-and-I-love-it big tits of Penelope Black Diamond. I would absolutely love her to slam dunk those basketballs around my cock!
GET THE ENTIRE ORIGINAL VIDEO USED IN THIS POST AND MANY OTHERS IN FULL RESOLUTION USING THE LINK BELOW: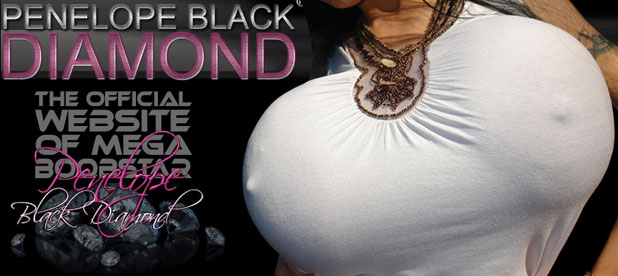 ---